August, 2013 – CARLO GAVAZZI is proud to announce the launch of the new Master Zone Counter system for parking facilities. The Master Zone Counter (MZC) is a standalone controller that keeps track of the number of available parking spaces in different zones of parking facilities.
Sensors, mounted at entry and exit points of each zone, allow the MZC to monitor cars going in and out. Drivers are guided to the free parking bays through MZC-controlled signs, including arrows and localized zone counts. Additionally, the total number of available spaces can be displayed outside of the parking area to potential visitors.
The MZC allows for flexibility in developing a parking monitoring system. Projects can now be designed according to specific needs and budget. The MZC can be combined with single spot systems to monitor rooftop spaces, or track accessible and reserved spaces separately. An MZC installation has a much lower upfront cost than traditional systems, while still providing an effective and eye-catching solution.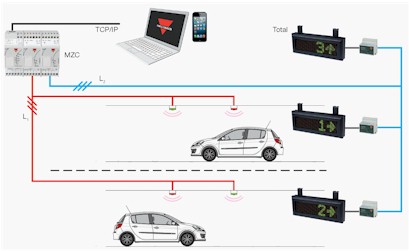 Carlo Gavazzi's parking solutions are all based on the Dupline® 3-wire bus network, which has provided reliable, noise-immune communication for over 25 years. Specifications include:
| | |
| --- | --- |
| | Up to 3,840 parking spaces divided into multiple zones can be managed by one Master Zone Counter |
| | Up to 120 car detection sensors can be linked to the MZC via the Dupline® 3-wire bus with power and communication |
| | The car detection sensors can be ultrasonic, photoelectric, or loop detector type |
| | Each zone can have multiple entry and exit points |
| | Configuration, monitoring, and count adjustment is done via a built-in webserver |
| | Full compatibility with the Dupline® single spot parking guidance system, thereby allowing mixed systems |
For more information about the MZC, please click on any of the links below: